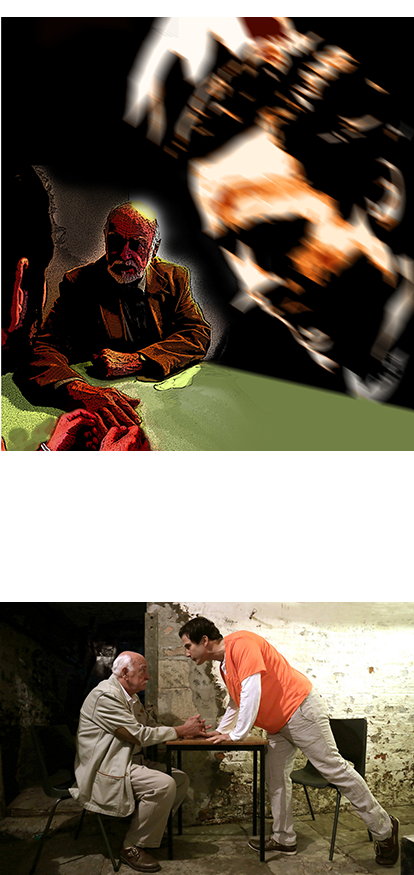 Reviewer : Frank Hill for Remote Goat

The U.K. has had more than it's fair share of serial killers - from Jack the Ripper to The Yorkshire Ripper and Harold Shipman. But, as with most things, the U.S.A. likes to do things bigger and better, and with Ted Bundy it certainly couldn't get any nastier.
During the 1970s Bundy kidnapped, raped and murdered dozens of women. He confessed to thirty, but there are thought to have been many other victims. Eventually he was caught and his trial became one of the biggest media circuses of the eighties.
Ken Varnold's new play 'starke.florida: The Final Hours of Ted Bundy' (a PACT production, premiered at The King's Arms, Salford) takes place in the hours before Bundy's execution. It's 5.00am in Raiford Prison, and he has requested a meeting with the detective responsible for his imprisonment. Det. Howard Stacker agrees to this because he feels his case is not yet complete. Elements surrounding the murder of Kimberley Leach don't add up. She was much younger than the other girls Bundy murdered and he'd never confessed to the crime. Stacker hopes to learn the truth. Could this be the one killing that Bundy didn't actually commit? And does Bundy himself have his own dark, cynical agenda for the meeting. You bet he does. Then again, maybe the detective's own motives are not quite as straight forward as they seem.
This is a complex play, partly about motivation, compassion and responsibility, and had me gripped throughout. It's also an intense psychological drama, not without humour, about two men looking for something they think only the other can give them. Performed in the dank, bare, claustrophobia cellar of The King's Arms, the setting of a death-wing interview room is electric.
Both performances are excellent. John Smeathers captures Stacker's anger, frustration and desperate need to understand, with great passion and conviction. Stacker is a conflicted man, who hates the celebrity of Bundy (women write affectionate letters to him), hates the party atmosphere that has developed around his execution - but feels the death penalty is the only way to stop him murdering again.
Eddie Capli is scarily cold and calculating as the intelligent but deadly Bundy manipulating the situation for his own ends. Bundy plays games. And never gives up. But the clock on the wall ticks away the minutes and he realises there is little time left.
This is a powerful piece of theatre, directed by Lewis Marsh, looking into the darkest of souls and trying to make some sense of it. This premier performance was packed to capacity, and in this unique, not particularly comfortable performance space, I almost felt I could be sitting in on the execution myself. Highly recommended.