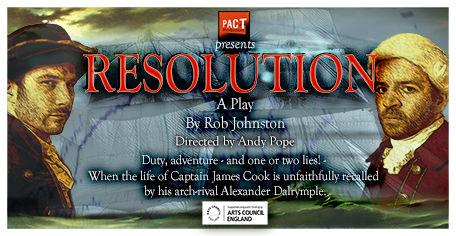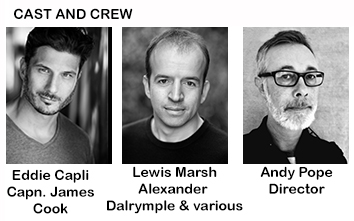 Eddie Capli
I began dreaming about playing Captain Cook as a young boy standing on the west cliff of Whitby looking up with curiosity at the statue of the great man. It has taken 30 years to develop as an actor and to have met such talented friends to collaborate with in order for such dreams to become a reality. I am very proud to be presenting `Resolution' in the birthplace of Captain James Cook and to the town of Whitby, where all this began.
Credits include Starke florida, Kings Arm theatre; Life`s a Gatecrash, Kings Arms theatre; Time of our lives, New attitude theatre; A Night on the Field of Waterloo, Manchester 24/7; The Glass Menagerie, White Horse theatre.
TV: Coronation street, ITV; Girlfriends, ITV.
Radio: Wednesday`s with strangers, Lost and Found, From Fact to Fiction,Sochi-Living the Dream (Radio Times award) Tittle Tattle, Arts, Artefacts and Angels, Brief Lives, BBC radio 4.
Film: Mirrors, Ely productions, Britain`s Biggest Heists, Title role productions.
Lewis Marsh
Lewis has previously directed two PACT Production plays (The Call by Stephen Connor and starkeflorida: The Final Hours of Ted Bundy by Ken Varnold) and played the part of the Sid in PACT's Manchester Theatre Awards nominated production of Gatecrash by Terry Hughes. Lewis is very proud of the variety and depth of the work PACT has produced and feels that Resolution continues PACT's ethos of creating new and exciting theatre.
Credits include The Chair, Liverpool Everyman; Twelfth Night, Thornbridge Hall; The Merchant of Venice,Lancaster Castle; Nico Icon Play,Six Characters in Search of an Author, Lowry Theatre (Studio);Concrete Ribbons Library Theatre; A Night on the Field of Waterloo, Harlequin, Owen Parker and Out of Dead Airfor the Manchester 24/7 Theatre Festival; Homelands, Bolton Octagon (Studio).
Film:LeoPoor Wee Me; Liam LovelleThe World According to Liam Lovelle.
TV Heartbeat, Hollyoaks, Children's Ward
A note from the director
When I was first approached to direct Resolution I was intrigued to say the least...and somewhat hesitant. I had worked with both Eddie and Lewis in past Pact Productions and relished the opportunity to work with them once again. However they both knew my history. Not one as an actor or director but that of an ex sailor in the Royal Navy. To this day the Navy operates in much the same way as it did in the days of Captain Cook. The traditions and ceremonies such as 'crossing the equator' remain intact and those who serve continue to do so with a fierce pride. Woe betide an inaccurate portrayal. At this time the play was still in concept and the writer Rob Johnston had only just 'come aboard'. Any fears I had proved to be unfounded. Upon reading the first draft of Resolution I knew Rob had got it just right. The playwrights attention to historic detail was impeccable, but more than that he somehow managed to find and depict the minds and beating hearts of the men who lived and breathed this remarkable tale over 300 years ago.
With this production I hope you will enjoy partaking in the salty air and high adventure from the shores of Whitby to the beaches of Taihiti...and beyond.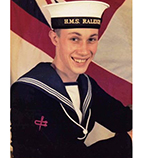 The director as naive, young recruit.
Andy Pope
Andy's theatre credits include The Misfits at Manchester Royal Exchange,
Evening Star at Studio Salford, TV credits include Emmerdale,
Shameless, Where the Heart is, Peak Practice, Soldier Soldier, City
Central and Cops to name but a few.
Recent directing work includes Life's a Gatecrash at the Kings Arms Theatre, John Godbers' 'September in the Rain' which toured at The Oldham Coliseum, The Dancehouse Theatre, Manchester, The Preston Guildhall, Rhyl Pavilion Theatre and The Whitby Pavilion. Little Diamond Theatre Company's production of John Godber's 'April in Paris' at The Oldham Coliseum, Halifax Square Chapel, and Blackburn Thwaites Theatre. Debbie Isett's 'The Woman Who Cooked Her Husband' which toured The Castleford Phoenix Theatre, The Theatre Royal St Helens, East Riding Theatre and Chesterfield Pomegranate.
In 2018 Andy also wrote and directed his adaptation of the much loved folk tale, 'Stone Soup' which was performed at the Albert Halls Bolton.